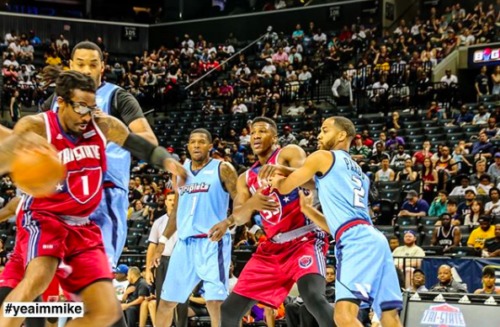 The BIG3 returned to where it all began in Brooklyn last weekend – Barclays Center!
In honor of its return to its inaugural arena, the League showcased three games, back-to-back-to-back. The first matchup featured the undefeated Triplets, led by Joe Johnson – who tallied 17 points including the game-winning 4-point shot to lead the Triplets to victory. Johnson and team handed Tri State their third loss of the season. Their efforts were led by Amar'e Stoudemire and Jason Richardson – tallying 33 points, combined.
The second matchup featured Bivouac and 3 Headed Monsters. Another former Brooklyn Net, Reggie Evans, finished with a double-double – scoring 21 points and 13 rebounds. But it wasn't enough to prevent the 3 Headed Monsters from losing back-to-back for the first time in team history.
Will Bynum is credited for Bivouac's dominance, as he contributed 13 points and a game-icing 3 point shot from Will Bynum.
In the final matchup at Barclays, Trilogy and Killer 3's looked to close out the eventful day with some excitement – bringing the Barclays center to its feet repeatedly. The final moments featured some thrilling back-and-forth play. But it was David Hawkins' 2-point free throw that gave Trilogy the team's second win.
For the Killer 3's, coached by the "King of New York" Charles Oakley, were down for most of the contest but momentum-swinging buckets from Franklin Session and Donte Greene provided a second half lead. Sam Young and James "Flight" White also proved to be too much for the Killer 3's, as the two combined for 23 points.
*Jadakiss, LL Cool J, Jim Jones (half-time performance), and more, were spotted courtside*
Check out the recap below, as covered by HH1987's own, Maria Myraine.
Photo & Videos by: #yeaimmike
View this post on Instagram

#MariaMyraine Replay: @thebig3 action • Tri-State vs Triplets • @amareisreal with the rock • : @yea_im_mike
View this post on Instagram

#MariaMyraine Replay: Caught some @thebig3 action at @barclayscenter last weekend • : @yea_im_mike